I don't think I've ever been this worn out before over a convention, but of course, not all conventions are like the little one held in San Diego. Currently, I am in my PJs, slumping around my house in a tired daze. Nerd Prom is five days of costumes, art, panels and the lines you wait in for them. My con experience was solely about socialization, which I tend to believe is the sane route (No waiting in lines to hang with friends!). I'm starting to acknowledge that my first SDCC was the best EVER, and nobody can top it, but I'll save the bragging rights for later.
Wednesday
First things first- I am a procrastinating fool. I was having such terrible pre-con jitters that even with a list I comprised over a span of two days I wasn't able to pack everything until the wee-hours of Wednesday morning which left me having three and a half hours of sleep- a meager power nap for the big day ahead of me. My flight to Phoenix could not compare to my flight to San Diego as I sat next to Comics Creator
Mark Britt
and we talked shop for the 1.5 hours we had to reach our destination.
I arrive, meet up with
Dean Trippe
&
Brian Muelhaupt
and we make our merry way over to our hotel. From there I was introduced to Andrew Pearson,
Jemma Salume
, and Pedro Coelho. We made it over to the convention center in time to take in Preview Night: I have to say that walking into San Diego Comic Con for the first time was quite overwhelming- the amount of people combined with the large displays for the booths made me stop to take it all in. I entered through the door that the DC Universe Booth was closest to, and from that point on I knew I was going to have an awesome convention.
Jemma and Pedro doing a super awesome con-action pose while Dean is makin' important calls.
DCU Booth!
After nabbing a few choice items for myself, we all went out to dinner at Royal Thai, where we met up with
Ming Doyle
,
Tim Callahan
and TV's Ryan Callahan. After stopping over at The Field to say a quick hello to my buddy
Jimmy Aquino
, Team Awesome was finally assembled when
Jason Horn
joined us for some late night drinks over at The Hilton Gaslamp's lobby bar. Around five a.m. we all stumbled back to our hotel to get some sleep for Official Con Day One.
Thursday
The gang absent-mindedly left a Mister Dean Trippe back at the hotel (we were tired!) but we met up with him once again for me to do my assistant duties. After walking around for a bit, we all headed to Geoff's Blackest Night panel and not too long into it I received a call from my friend Jess informing me to meet her over at the DCU booth to check out my girls in their costumes. The call couldn't have come at a more opportune moment- I was getting pretty sick of listening to the fanboy questions a-la, (fanboy pointing to his BL ring), "Does anyone else have the urge to kill themselves or others while wearing this ring?" Seriously? Its a plastic ring, sir.
I ran over there to spend my dinner with the lovely
Jessica Parks
,
Hardcore Nerdity's Catwoman
aka
Meghan Campbell
and was introduced to
Abe & Kroenen
's own Kim Belair and Rebecca Stacey.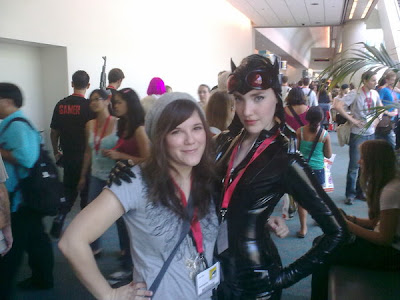 What a puur-fect pair of friends. Har har.
Dang Wonder Woman confusin' my awesomeness for a bad dude but I'll roll with it.
After dinner I got ready to go on over to the Boom! Studios party held at the Hyatt's lobby bar. The placed was packed with industry people and nerds abound. Coming from the Southeast coast, where the largest convention is Dragon*Con, I found myself lost within a sea of drunken comic geeks. Luckily I had some life saving friends for when talking to "Marvel Men" became tiresome.
The best part of the evening, of course, had to have been my encounter with
Mark Waid
. Now see I'm a shy one when it comes to people who have my respect and I was practically dragging my heels in to the floor when Dean wanted to introduce me to him, however, any reservations I had from talking to Mister Waid disappeared after being able to converse about comics with the man who got me interested in Superman after reading, "Superman: Birthright". He's also one of the most pleasant people to be around, to boot. I didn't think my night could get any better until he told me he'd personally introduce me to Gail Simone!
I went to bed a very happy person that night.
Mark Waid and I!
Friday
Dean and I grabbed a quick bite to eat before heading to the con where, after walking around quite a bit, met up with Meghan. She was determined to get a sketch by Dustin Nguyen and since Dean is a buddy of his, we obliged to be apart of her adventure to find his table. The hunt to find his table in the Artists Alley was proven to be a success, abet having to maneuver around the con-goers. While Meghan and Dean talked to Dustin, I had a brief chat with Randy House. After that, Meghan and I parted ways so that Dean and I can meet up with Team Awesome for a bite to eat before the Eisner's.
Jason got free cookies for dinner!
I don't even know what to say about my experience at the Eisner's. Team Awesome had their own table (nom nom nominees) and I can't speak for all of them, but I felt pretty fancy being there.
My surroundings.
Comic Book Tattoo Number One!
Look at this fancy set-up they got goin' for us.
I was on the guest list for the ONI Party so I jetted out of the Eisner's to make it to that shin-dig.
The party was held on the rooftop of the Padre's Stadium so we were way up against the cityscape. Did I mention the open bar?
pay no attention to the drunk dude
So when I saw Zachary Quinto at said open bar I grabbed Dean but I confused my 'normal excited HEY LOOK WHO THAT IS' grab with my Vulcan Death Grip. I was more excited than I thought I was so while Dean talked to a cross-armed Zach about Trek, I just stood in awkward admiration.
Dean had left briefly to make it to the Eisner's just in time to see Comic Book Tattoo win and I talked comics with a Mister
Jason Latour
until he returned. From that point on, we all tried to arm-wrestle one another, and when last call was called (and the lame, "LETS MAKE DIS A SEXY COMIC-CON" dj appeared) we jetted off to the Hyatt where Ben Templesmith done drew on my leg!
Mister Templesmith and I!
I also hungout with my friend
Sterling Gates
and the night concluded with all of us drunkenly taking angled photos of one another.
Saturday

I don't believe I did very much on Saturday besides going on the CBR boat for a spell. I have
found that I do not do well on boats.
I'M ON A BOAT!
The CBR Boat was what you'd expect a boat to be- low ceilings, wood paneling and a slow, constant rocking motion which almost made me lose my breakfast.
Andy Khouri
made the rocking more tolerable as he's a witty guy who can talk comics like nobody's business. Dean drew a Zatanna for Andy's girlfriend who happens to costume (and look like) the character.
Dean Drawing Zatanna for a pretty lady.
Fortunately for my stomach, we left the boat and checked into our new hotel.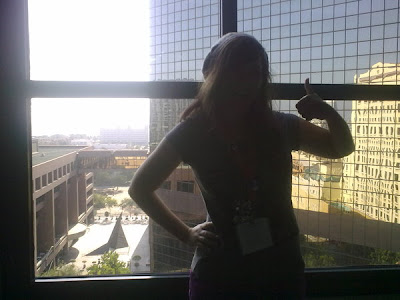 Team Awesome moved into our sweet room on the 14th floor at the Westin (which is a lot better than sleeping on the floor at the Hampton Inn, lemme tell you what) and after regrouping at the Hyatt, Ming, Jason and I all went down to the Popcult party. This is the night homegirl got drunk. This is the night where drunken dancing ensued and friendships were made with trees. I am not going into anything else. Saturday, oh Saturday.
Sunday

I was surprised I could manage to wake up at an "early" time to go and meet Mark at his booth. I received a tweet at 10 saying that I needed to go to his booth -at- 11 so that I could be introduced to Gail. Well, whadda know, I didn't check my tweets until eleven and basically booked it to his booth at Boom! Studios with nothing in me (not even coffee)! Mark got Gail to come over and she signed my Tim Sale Wonder Woman cover. It was nice to be able to tell her that she is the reason why I wanted to write comics. I was completely speechless and I will never be able to thank Mark enough. So if you're out there and you're reading this Mark- thank you so, so much.
I went back to my hotel room and quickly changed into my Superwoman costume. I didn't really feel like dressing up this convention but I figured since I had the thing with me, why not? I'm also blaming it on Sterling- I wouldn't have been in the costume without him asking! The rest of Sunday was spent wandering around the hallways, and trying to find some last minute deals on t-shirts (there weren't any, sadly).
Well that's a SUPER COUPLE if I ever did see one! Get it? SUPER..? Guys..?
Team Awesome Elevator Action Ka-Pow!
Look at that! Jason and Jemma are sittin' next to Lois! Boy I am jealous.
After a quick change in the hotelroom, Team Awesome went back out for some dinner and spent some time at the good ol' Hyatt lobby bar one more time.
photo thanks to Brian Muelhaupt
We then watched the Rifftrax of 'The Room' and if you haven't seen it, I implore you to stop reading this silly thing and go watch that piece of comedic gold.
Monday

After saying goodbye to Dean and Jemma, I made my way back to the Peach State. The good thing about the trip back was that I got the window seat heck yes!
Ever think Superman tires of this view? Because I sure wouldn't.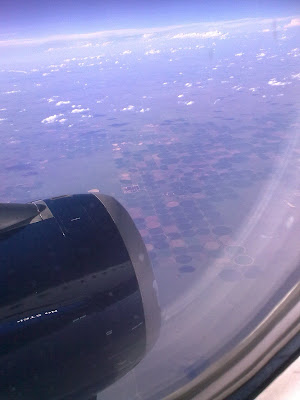 Some quick thank yous:


Dean, Jemma, Jason, Ming, Sterling, Tim, Ryan
- The most, well, awesome con-friends I could ever have. Go, Team Awesome!
Jimmy Aquino
- Seriously? I can not say enough about you, sir. Thank you for getting my friends and I into Popcult! You are the bee's knees.
Kevin Church
- Fantastic meeting you on Thursday! You had me in stitches! I cannot wait for Ming Dy-Nasty's album to drop.

Christopher Schons
- I never thought that meeting you on the bus would turn into seeing you everywhere- you were a great addition to the Team! Thanks for the Batman and the company!

Mark Waid
- Thank you for taking the time out to talk to little ol' me. The best part of SDCC was meeting you!

Matt Fraction
- I will never forget the writing advice you gave me and I don't think you'll ever know how much I appreciated it.